Legend Boat Dealers London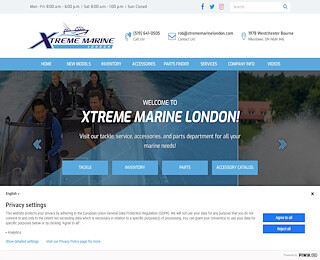 Your search for the right boat should begin at a reputable dealership. A good dealership not only gives you an amazing buying experience, but it's also ideal for after-sales services.
Xtreme Marine London is a marine shop that has been in operation since 2007. Over the years, we have invested in a large inventory of marine products, with the aim of providing the best selection to our customers. For boat lovers looking for Legend Boat dealers in London, we are your go-to boat shop.
What Services Do Boat Dealers Offer?
Besides selling boats, boat dealers also offer the following services:
Delivery – Some dealers provide delivery services. This is especially useful when the sale is made online.
Servicing – Many dealers have their own service centers where they offer maintenance services to customers. At Xtreme Marine London, we have a full-service department that provides parts, and maintenance by Mercury trained technicians.
Financing – A dealer may assist you in getting financing for your boat. At Xtreme Marine London, we help our customers to access special financing that enables them to get the boat they want.
How to Choose the Best Boat Dealer
Here's how to find the best boat dealer:
Variety – A good boat dealership should be able to present you with different types of boats, with different price ranges. They should also have both used and new boats in their inventory.
Authorization – Dealers with manufacturer authorization provide genuine boats, accessories, and parts. At Xtreme Marine London, we're authorized dealers for Mercury, Harris Pontoon Boats, Legend Boat, Larson, Crestliner Boats, among others.
Customer Service – The staff at a good dealership should have excellent customer service skills. This includes being ready to answer all your questions and helping you find the boat that best fits your budget, preference, and needs. In such a case, you can be assured that when you come back to the dealership for services and repairs, you'll have a great experience.
Location – Buying your boat from a dealership that is closeby means you'll avoid long trips when you need maintenance services.
How Do You Maintain Your Boat?
Maintenance tips that may help avoid serious damage and costly repairs to your boat include:
Washing it Regularly – Your boat should be cleaned and waxed frequently to ensure that it maintains its finish. You should also always rinse your boat with fresh water after every use in saltwater to get rid of salt residue.
Change Oil Regularly – Change the oil at least after every six months or 50 hours of use. This may also depend on the model, so make sure you read the manufacturer's instructions. If you aren't available every six months, it's best to hire someone to take care of your boat. Oil changes keep the boat engine in good condition.
Inspect the Propeller - Inspecting the propeller regularly ensures that no fishing line is wrapped around the shaft. Also, watch out for dents as they may slow down your boat.
Find the Best Boat Deals
With a 14,000 square foot facility, Xtreme Marine London is able to stock boats from some of the most recognized brands. Our fully packed indoor showroom makes us one of the best Legend Boat dealers in London.  For any queries or questions, give us a call today on 519-641-0505.
Legend Boat Dealers London
Xtreme Marine London
5196410505
1978 Westchester Bourne
London
ON
N6M 1H6
View Larger Map